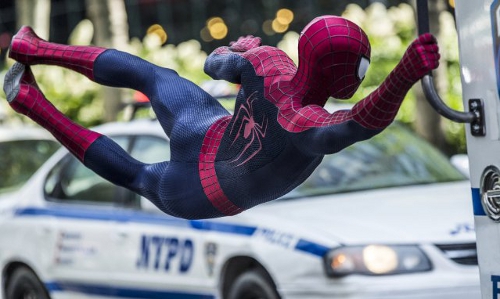 The Amazing Spider-Man 2 (Early Instant Video Exclusive)
We've always known that Spider-Man's most important battle has been within himself: the struggle between the ordinary obligations of Peter Parker and the extraordinary responsibilities of Spider-Man. But in The Amazing Spider-Man 2, Peter Parker finds that a greater conflict lies ahead. It's great to be Spider-Man (Andrew Garfield). For Peter Parker, there's no feeling quite like swinging between skyscrapers, embracing being the hero, and spending time with Gwen (Emma Stone). But being Spider-Man comes at a price: only Spider-Man can protect his fellow New Yorkers from the formidable villains that threaten the city. With the emergence of Electro (Jamie Foxx), Peter must confront a foe far more powerful than he. And as his old friend, Harry Osborn (Dane DeHaan), returns, Peter comes to realize that all of his enemies have one thing in common: OsCorp.

Divergent
DIVERGENT is a thrilling action-adventure film set in a world where people are divided into distinct factions based on human virtues. Tris Prior (Shailene Woodley) is warned she is Divergent and will never fit into any one group. When she discovers a conspiracy by a faction leader (Kate Winslet) to destroy all Divergents, Tris must learn to trust in the mysterious Four (Theo James) and together they must find out what makes being Divergent so dangerous before it's too late. Based on the best-selling book series by Veronica Roth.

Oculus
Ten years ago, tragedy struck the Russell family, leaving the lives of teenage siblings Tim and Kaylie forever changed when Tim was convicted of the brutal murder of their parents. Now in his 20s, Tim is newly released from protective custody and only wants to move on with his life; but Kaylie, still haunted by that fateful night, is convinced her parents' deaths were caused by something else altogether: a malevolent supernatural force unleashed through the Lasser Glass, an antique mirror in their childhood home. Determined to prove Tim's innocence, Kaylie tracks down the mirror, only to learn similar deaths have befallen previous owners over the past century. With the mysterious entity now back in their hands, Tim and Kaylie soon find their hold on reality shattered by terrifying hallucinations, and realize, too late, that their childhood nightmare is beginning again.

Community: Season Five
America's smartest, edgiest comedy goes back to school with a vengeance! Just when you thought you'd seen and laughed at everything, along comes Season 5 to reinvent all the rules. "Bear Down" for the most jaw-dropping, polygraph-taking, hot lava-walking, ass-crack-bandit-pursuing, fantasy-roleplay-gaming, animated "G.I. Jeff"-hallucinating, hidden treasure-hunting, college campus-saving season that gets a rating of five MeowMeowBeenz! The fifth season of Community proves to be the most innovative and hilarious season yet – with Joel McHale, Gillian Jacobs, Danny Pudi, Yvette Nicole Brown, Alison Brie, Donald Glover, Jim Rash, Ken Jeong, Jonathan Banks and John Oliver.

Californication: Season Seven