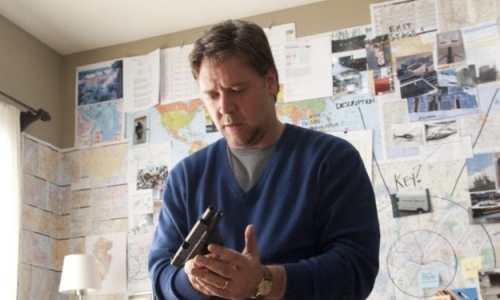 The Next Three Days is flying somewhat under the radar for upcoming the holiday movie season however it is a film that should not be overlooked. An expertly blended drama and thriller it centers on a man coping with his wife having been arrested and convicted for a murder she did not commit. When it becomes evident that she will not be getting out through the legal system he sets out on a plan to break her out and evade capture.
Director Paul Haggis (Crash) has crafted a film that feels real and remains grounded. In doing so the tension at times is ramped up to remarkable levels. The main reason for this is how the audience is taking that same emotional ride with the main character from start to end.
The first half of the movie is very much a drama. John Brennan (Russell Crowe) is faced with hanging on to faint hope that his wife Laura (Elizabeth Banks) will be freed through the appeals process while raising their young son who is struggling with having lost his mother. As that hope disappears he begins planning to break her out.
The important thing here to me was that Brennan is no expert on pulling something of this nature off. He doesn't have a genius mind and he certainly doesn't have any inside knowledge beyond some general advice he receives on the matter. It becomes a methodical process over a lengthy period of time with some trial and error involved.
Then the second half takes an intense turn and becomes a thriller as the character becomes increasingly desperate and reaches the point of no return. That contrast and character development really sells the film completely. The reason why the tension was so high was because the audience had become completely invested in the outcome which remained in doubt until the very end.
At just about 130 minutes I was surprised just how much had been packed in without ever feeling rushed. Haggis was able to pace it beautifully, allowing for that methodical-like buildup that would eventually result in enhancing the intensity of later scenes.
This is one of the few movies in recent memory where I can say that it really put me on the edge of my seat. I literally felt my heart racing at times. The uncertainty of what was going to happen was incredibly refreshing.
The performances from Crowe and Banks are excellent as they exhibited the subtlety of their emotions even when trying to shield that from each other. In the case of Crowe it was primarily that desperation bubbling up and with Banks it was having to try and accept the inevitability of her situation.
There are several smaller roles and cameos from terrific actors. Liam Neeson, Brian Dennehy, and Lenny James are a few of the most prominent ones. Olivia Wilde felt a little underutilized however and that would be one of my very few issues with the film.
The Next Three Days may very well be the best movie of the year. A drama at heart it takes the audience on a roller coaster of emotions and thrills making the eventual outcome for the characters truly meaningful.
Rating:





The Next Three Days is rated PG-13 and opens on November 19th.