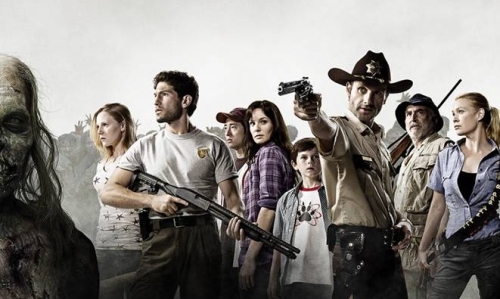 Last night's premiere of the comic-adaptation series The Walking Dead became AMC's highest rated premiere ever. The show pulled in 5.3 million viewers and a massive 3.6 rating in the crucial 18-49 demo. When including the two replays that immediately followed the total was 8.1 million viewers for the evening.
AMC has been building a brand established on high quality but typically low ratings. Mad Men, Breaking Bad, and Rubicon are prime examples of that. The Walking Dead however provided widespread appeal, a built-in fan base, got great reviews, and was very well marketed.
The Walking Dead tells the story of the months and years that follow after a zombie apocalypse. It follows a group of survivors, led by police officer Rick Grimes, who travel in search of a safe and secure home.  The comic goes on to explore the challenges of life in a world overrun by zombies who take a toll on the survivors, and sometimes the interpersonal conflicts present a greater danger to their continuing survival than the zombies that roam the country.  Over time, the characters are changed by the constant exposure to death and some grow willing to do anything to survive.
I thought the premiere was excellent and I was hooked immediately. It provided feature film level production values, was well written and built up the characters to an impressive extent quickly, and had a great ominous tone in addition to creating some sympathy for the zombies. From what I've heard it only gets better and more unique as it progresses so it has a ton of potential going forward.