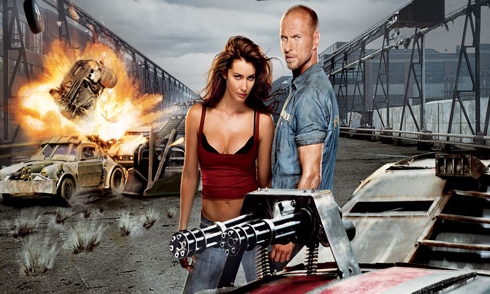 A trailer has arrived for the upcoming release of Death Race 2. Wait…there is going to be a sequel to Death Race? Turns out it is actually a prequel despite the what the title suggests. Also it is going straight to DVD.
There will be no Jason Statham but it actually carries some relatively decent names for a straight to DVD film. The cast includes Ving Rhames, Danny Trejo, and Sean Bean.
Death Race 2 takes place in the very near future, as the United States economy begins to decline and violent crime starts to spiral out of control. To contain the growing criminal population, a vast network of for-profit, private prisons springs up, creating a lawless subculture ruled by gangs, cold-blooded killers and sociopaths. The worst of these prisons is Terminal Island, where inmates fight each other in a highly rated televised death match, where there are no rules, and the winner is the one who survives the gladiator-style, no-holds-barred competition.

Convicted cop-killer Carl Lucas (Luke Goss) arrives on the Island to serve his life sentence just as ruthlessly ambitious television personality September Jones evolves the death match into the ultimate reality show – Death Race. A brutal prison yard demolition derby that pits prisoners against each other in steel reinforced, heavily armed vehicles, Death Race offers the winner the ultimate prize: freedom — if he can survive to enjoy it.
I quite enjoyed the original Death Race so if the production values are high for this one it could be a fun film to watch even without Statham. That being said I'm keeping my expectations very low. Death Race 2 is slated to arrive on January 18th 2011.