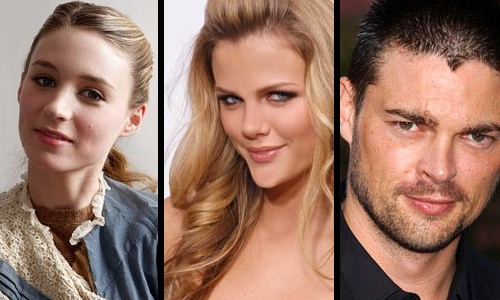 Rooney Mara has won out a fierce battle for the role of Lisbeth Salander in The Girl With The Dragon Tattoo and the two subsequent sequels. Many names had been tossed around and screen tested including Ellen Page, Natalie Portman, Scarlett Johansson. Daniel Craig was already set as the male lead. The film, based on the first in a trio of Swedish novels, is being directed by David Fincher.
Judge Dredd is getting a reboot and Karl Urban has signed on. The movie is expected to be a very gritty R rated take on the comic and is being directed by Pete Travis (Vantage Point).  Basically just try to forget about the 1995 Sylvester Stallone-Rob Schneider version because it will be nothing like that.
Victoria's Secret model Brooklyn Decker has been added to Battleship, the big budget US Navy vs Aliens pic being helmed by Peter Berg. She will play the love interest of the main character (Taylor Kitsch) who is the Commanding Officer of one of the ships. Decker was one of the finalists to replace Megan Fox in Transformers 3 with Michael Bay instead choosing to go with another model Rosie Huntington-Whiteley.