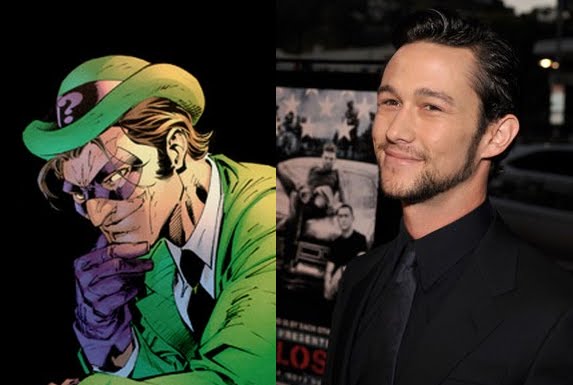 Just last week, director Christopher Nolan confirmed that 'The Joker' would not be in the next 'Batman'. Naturally, speculation of who the next villain would be pointed to characters like 'Riddler' and 'Catwoman'. Hollywoodlife.com is reporting that the next villain will be 'Riddler' and that Joseph Gordon-Levitt is seriously being considered for the role.
"Chris really dug Joseph [as an actor]," a source close to the director tells HollywoodLife.com exclusively. "There was a joke at first between them [on the set of Inception] that Joseph wanted to read for Batman 3 and things heated up as filming continued."

Adds the insider, "It's not 100% confirmed that he's getting [the role of The Riddler] but there's certainly talk about it. Joseph is definitely on the short list." This should make fans happy, especially as several fan sites have expressed a wish to see the 500 Days of Summer cutie score the role!
Before taking any of this seriously, we should consider that nothing is official. The script is still being written, and Nolan has made no mention of who the villain in the next film will be. It wouldn't surprise me though if this did happen. Gordon-Levitt worked with Christopher Nolan on Inception , and Nolan has a history of working with the same actors on different projects in the past. I'm really not sure how I'd' feel if this news were true. From a character standpoint, 'Riddler' and 'Joker' are very similar. Throw in the fact that Gordon-Levitt looks like Heath Ledger, and the role might seem a bit redundant. I'll hold any judgment until we hear something from Nolan himself. I have full confidence in whatever decision Nolan makes.