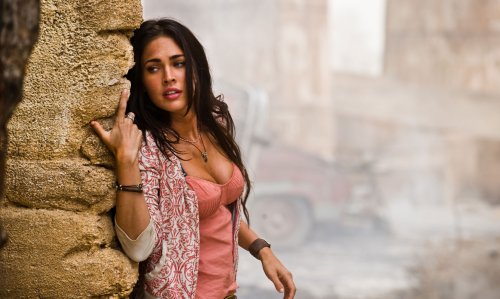 While there has been talk recently about the ever-growing cast list for Transformers 3 it looks like one of the main players from the franchise has been cut out. Deadline is reporting that the option to bring back Megan Fox will be passed over and she will not appear in the film. It is now expected a new romantic interest for Sam Witwicky (Shia LeBeouf) will be introduced.
While Fox was incredibly appealing in Transformers she became more of an annoyance in the sequel as moviegoers started critiquing her more on actual acting ability than her looks. Despite that is seemed certain she would be coming back…that was until she compared director Michael Bay to Hitler and probably dug her own grave in doing so.
The confirmed cast for Transformers 3 thus far includes LeBeouf, Josh Duhamel, Tyrese Gibson, John Malkovich, Frances McDormand, Patrick Dempsey, Alan Tudyk, Ken Jeong, and Jamie Kennedy. The movie has a release date of July 1st 2011.