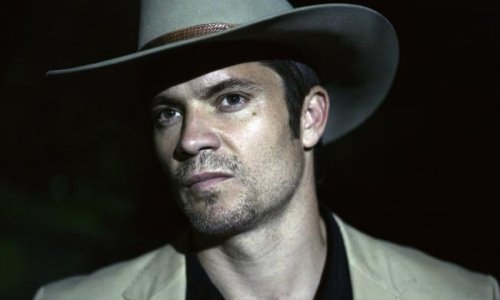 Today FX announced that they have picked up Justified for a second season. The series stars Timothy Olyphant and is based on the popular character created by Elmore Leonard in the short story "Fire in the Hole" and some of his other novels.
Through seven weeks, first-run episodes of Justified are averaging 3.4 million viewers and 1.7 million  Adults 18-49.  The weekly multi-run average viewership for the series is 7.5 million total viewers and 3.9 million Adults 18-49 (six episodes).   Justified is this year's number-one rated new series on basic cable in delivery of Men 18-49 (1.1 million).  Justified was the most-watched series premiere in FX history, with 4.9 million total viewers, surpassing The Shield's 4.8 million total viewers (3/12/02).
Outside of the premiere Justified's ratings haven't been spectacular but they have been consistent. FX has shown a propensity to stick with series that they believe in. Cable series' have seen more success increasing viewership compared to those on networks. Justified strikes me as the type of show that will pick up fans between season one and two.
Justified has quickly become one of the shows that I look forward to every week. It is slower paced but in doing so projects a really grounded and strong presence. The acting is superb and the storylines are woven well tying single episode events in with those that advance throughout the season and providing for growth from the characters and their relationships.