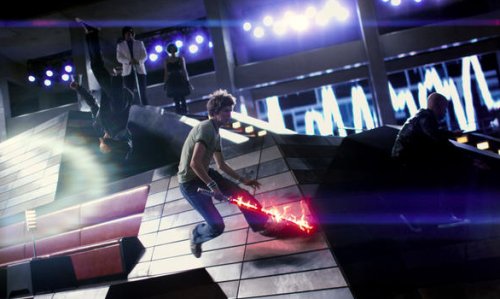 The first teaser trailer for Scott Pilgrim vs The World released today. A strong ensemble cast includes Michael Cera, newly anointed Captain America Chris Evans, Anna Kendrick, Brandon Routh, and Jason Schwartzman. Directed by Edgar Wright (Hot Fuzz, Shaun of the Dead)  Scott Pilgrim vs the World is based on the first volume of the graphic novel series.
Scott Pilgrim's life is so awesome. He's 23 years old, in a rock band, "between jobs," and dating a cute high school girl. Everything's fantastic until a seriously mind-blowing, dangerously fashionable, roller blading delivery girl named Ramona Flowers starts cruising through his dreams and sailing by him at parties. But the path to Ms. Flowers isn't covered in rose petals. Ramona's seven evil exes stand between Scott and true happiness. Can Scott beat the bad guys and get the girl without turning his precious little life upside-down?
This is a movie that has gathered some good buzz coming out of a couple film festivals where it has been screened. Scott Pilgrim vs the World is slated to release on August 13th.