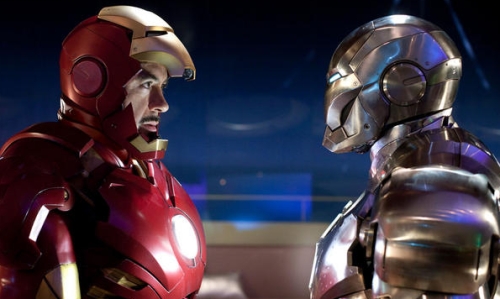 After getting the first trailer back in mid-December for Iron Man 2 a follow-up has just been released. The new trailer once again focuses on "Whiplash" (Mickey Rourke) but also features new looks at the "Black Widow" (Scarlett Johansson), Justin Hammer (Sam Rockwell), and "War Machine" (Don Cheadle). We even get a glimpse of Nick Fury.
With the world now aware of his dual life as the armored superhero Iron Man, billionaire inventor Tony Stark (Robert Downey Jr.) faces pressure from the government, the press, and the public to share his technology with the military. Unwilling to let go of his invention, Stark, along with Pepper Potts (Gwyneth Paltrow), and James "Rhodey" Rhodes (Don Cheadle) at his side, must forge new alliances — and confront powerful enemies.
The story is set six months after the end of Iron Man and while it won't directly take on the "Demon in a Bottle" storyline from the comics some signs of Stark's alcoholism are expected to materialize. Iron Man 2 is slated to release on May 7th 2010.