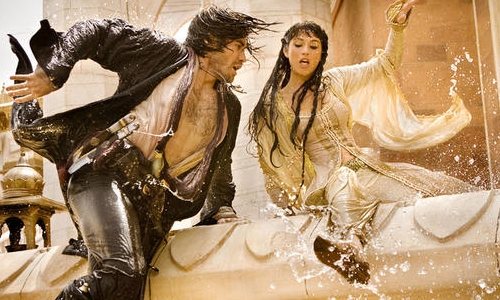 Just the other day the first trailer for Prince of Persia: The Sands of Time was released and to mostly positive response. Now in an interview with Latino Review producer Jerry Bruckheimer extensively discusses the film. Maybe the most noteworthy thing out of the interview has to do with the test screening scores which are being made to sound very encouraging.
What we found when we tested the movie a few weeks ago, and it tested extraordinarily high which surprised me because I always think these things are going to fail but this one turned out great; the women were a surprise because I thought we made a terrific movie for the boys because the girl is beautiful but the women flipped over this film. I've never had a score where the parents, there is violence, too, because it's PG-13, but the parents rated the film a hundred percent with an excellent or very good which has never happened before.
The movie is still a ways off with a release date of May 28th 2010. However the early buzz has a lot of observers thinking not only could this be the first really good video game adaptation but it could also be a hit the size of Pirates of the Caribbean.